Croatia's first president, Franjo Tudjman, even visited the striker in Melbourne in 1995 to try and influence Viduka's decision. Perth-rasied Ivan Ergic opted to play for Serbia, while Melbourne-born defender Ersan Gulum was lost to Turkey.

However, with the class of 2022, the emotional pull of ancestry has fallen the way of the Socceroos. As Mabil spoke of what it meant to be a new Australian, three others have challenged our own sense of identity.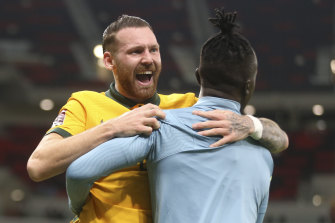 Harry Souttar was born and raised in Scotland, the country for whom his older brother John plays. Harry looks even more promising than his brother and has been heavily linked with a move to the English Premier League.
However, when the defender was given the chance to play international football, he rejected the chance to play alongside his sibling in favor of the country of his mother's birth, despite never having visited Australia.
"He grew up with his idols, the posters in his bedrooms of Australian Socceroos as a kid," Arnold said of Souttar upon his selection in 2019. "That was how passionate he was to play for Australia."
Fran Karacic was born in Zagreb to an Australian father and, until recently, didn't speak much English. He had represented Croatia seven times at youth level and was captaining Lokomotiva Zagreb at the age of 21 before deciding to represent the Socceroos.
Martin Boyle made two appearances for Scotland in friendlies before switching his allegiance to Australia, the country of his father's birth. Days after the shoot-out win over Peru, Boyle was still wearing his playing kit, having been partying with teammates at the pool bar in their Doha hotel.
These players are anything but cast-offs from other nations. When Karacic committed to Australia in 2018, he had no reason to think he would not represent Croatia one day. His decision, he says, was as much an emotional decision as a professional.
They [my family] told me everything is beautiful in Australia – the life, the people," Karacic told the herald and The Age last year. "It's a different part of the world and different people to Europe. When I met the people in the national team, I understood what they were talking about. Everyone is kind."
loading
Australia's very first team, which played on this day, 1922, comprised of players from NSW and Queensland, predominantly of working-class Scottish, Irish and northern English stock.
The first Australian team to play an international tournament – the 1956 Melbourne Olympics – was influenced by government policies on citizenship. Despite many of the best players being post-war migrants from Europe and the Mediterranean, the only eligible migrants were from Britain. The entirely Anglo-Australian side was eliminated early, losing 4-2 to an unfancied Indian side whose players had been forced to wear boots for the first time. When Australia demanded a rematch, India won 7-1.
The country has come a long way since then, as has its football team. As cappuccinos, yum cha and First Nations countries became part of our vernacular, so, too, have the surnames; Viduka, Bresciano and Jedinak. No team represents more of Australia than the Socceroos.
It's why Redmayne's heroics have already been compared to the great moments of Shane Warne, Cathy Freeman and David Campese. It's why qualifying for the biggest event in the world meant so much to so many, despite the sport's absence from much of the national discourse.
It's why the heartfelt words of Mabil resonated so deeply in the country despite so few of us being able to relate to his journey. In reaching the 2022 World Cup, as they did in 2005, the Socceroos have become something much more than the sum of their parts.
News, results and expert analysis from the weekend of sport sent every Monday. Sign up for our Sport newsletter.