After being canceled for two years during the COVID-19 pandemic, the Stratford and District Horticultural Society's annual Stratford Garden Tour is returning on July 3 from 10 am to 4 pm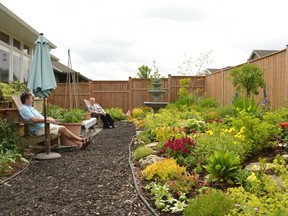 Article content
When Kathryn Robertson and Ross Crawford recently had to downsize and move to a new home across town, Robertson was willing to do what she could to bring her garden with her.
Article content
As an artist and retired chef who gets her inspiration from the colorful flowers, vegetables and plants in her garden, recreating the same natural beauty she enjoyed at her previous home was a top priority. The only challenge was doing that in a much smaller space.
"We downsized and this is the third year for the garden," Robertson said. "I wanted a view because, when you move into a subdivision, there's only a fence to look at (in the backyard). … So we wanted to have something to look at. I'm an artist and I paint flowers, so I have a lot of flowers in the garden. It's pretty crammed full and I'm good at putting colors and shapes and textures together. … It's coming along quite nicely. We have a lot of perennials of different varieties – some more rare varieties – and every square inch where there's a hole, I've put in annuals, so it will be really colourful.
"A lot of people do either a perennial garden or an annual garden, or they just stick a few things together, but I go absolutely nuts."
When planting, Robertson says she pays close attention to complementing and contrasting colours, as well as leaf shapes and textures, so she can take photos of her plants when they're in full bloom and paint large canvases from those photos in the winter after her plants have gone dormant.
As retired chefs, Ross and Robertson also have a small vegetable garden and a herb garden in their backyard.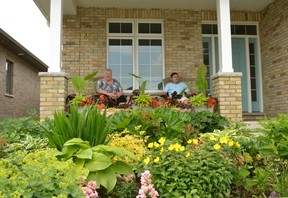 Ross and Robertson's front and back gardens are among eight properties that will be featured in this year's Stratford and District Horticultural Society Garden Tour, which is returning on July 3 from 10 am to 4 pm after the annual event – ​​a regular part of summer in Stratford for nearly 25 years – was canceled for two years amid the COVID-19 pandemic.
Article content
"It's great to be able to put this back together," said Ron Nichol, one of the horticultural society event organizers and someone who's had his garden featured on the tour in the past. "It's been three years, of course, since we did it last. We've all got a bit of trepidation around trying to do something after COVID times with lockdowns and all that, but this is an outdoor event and we're feeling pretty confident that everything will go well."
This year, Nichol says all eight gardens on the tour, many of which were to be featured in the 2020 tour, are located within Stratford, and two of them are actually on neighboring properties. The idea is to give those who take the tour a good cross-section of varying gardens in different neighborhoods across the city.
While some gardens were planted 75 to 100 years ago and cared for by many different property owners over that time, others, like Robertson and Ross' garden, haven't been around as long but are no less stunning.
"It's just to give a little bit of a sample of different types of gardening that Stratfordites are working on," Nichol said.
Passes for this year's garden tour, which are $15 each or $25 for two, can be purchased now at Cozyn's Garden Gallery in Stratford and at the Sebringville Garden Center. The passes, which include a map and a suggested route for the tour, can also be purchased at Stratford's city hall from 9 am to 1 pm on July 3.
While Nichol said the tour is walkable for those interested in getting a bit of a workout, he said the best way to see all of the gardens is by bicycle or other vehicle.
For more information, follow the Stratford and District Horticultural Society on Facebook.
gsimmons@postmedia.com