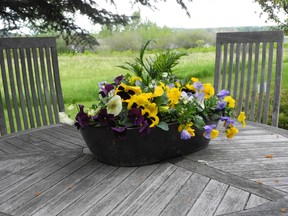 Reviews and recommendations are unbiased and products are independently selected. Postmedia may earn an affiliate commission from purchases made through links on this page.
Article content
So that's it for spring? The official first day of summer is Tuesday, the 21st, so spring is soon to be a thing of the past.
Article content
Chances are by now you will have planted pots and containers, new perennials and shrubs and perhaps the occasional tree. As welcome as the recent rain was, make sure to stay on top of watering as we entered into this year's gardening season with exceptionally dry conditions. And it was rather chilly as well so condolences to those who put out tomato plants, begonias, impatiens and the like earlier than June 1. Take heart, for the last time I looked, there were still lots of tomato plants and tender annuals available at garden centers and big-box stores.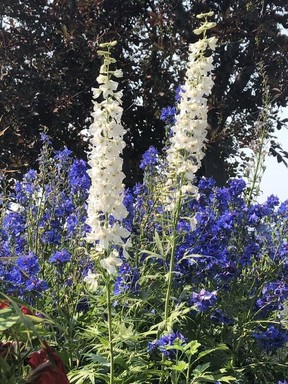 For those with perennial beds that include delphiniums, rose bushes and columbine – to name but a few – you may have noticed that delphinium worm is quite prolific this year. Had I been more observant, I would have spotted the worm when the plants were about 15 to 20 centimeters tall, and the solution would have been to cut the delphiniums down to about five centimeters and discard the cut-off greenery. But since I missed that window and the plants are now one meter tall, the solution is to either hand-pick off the worms, or liberally apply biological insecticide called BTK-or spray with the ominous-sounding End All miticide by Safer's. The real trick is to cut delphiniums right back to the ground in the fall as the worms overwinter in the hollow stocks above ground. I missed that opportunity as well so let it always be said 'why put off until tomorrow what can be done today?'
Article content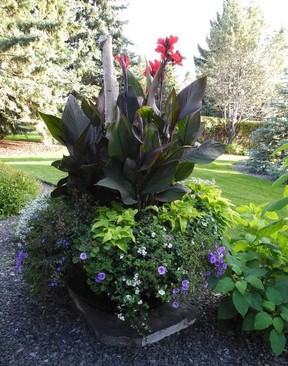 Powdery mildew, another unwelcome yet common 'affliction' will start showing up on bee balm, black-eyed Susan's, dahlias, peonies, zinnias and roses. An easy treatment is to spray affected plants with a homemade solution of one teaspoon (1/6th fl. oz.) of bicarbonate solution (baking soda) dissolved into one quart (a little more than 1 liter) of water. The solution can be sprayed all over the plant without doing harm to anything other than the fungus.
If you have not considered including a water feature or bird bath in the garden, this is the year to do it. Remember though that less is more and you shouldn't even think of trying to emulate the Trevi Fountain in Rome. Make sure to keep the water clean and fresh. Speaking of birds, if you can still find Vermillionaire (Large Firecracker Plant), grab it as it is a guaranteed hummingbird favourite. Snapdragons, petunias and columbines will also attract hummingbirds. For balcony gardeners, pick up a hummingbird feeder and fill it with a homemade solution by combining ½ cup (1/10th liter) sugar with two cups (1/2 liter) water, bring to a boil for two minutes and then completely cool. Do not add food coloring under any circumstances.
Article content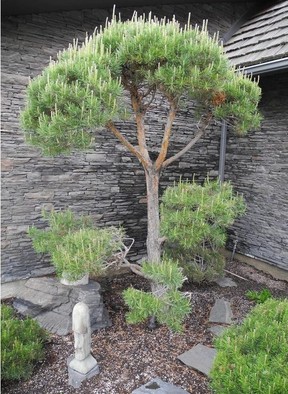 Something I have yet to try is bonsai. Sure it takes years to see the results, but a feature specimen of a bonsai juniper or mugho pine is stunning. Google the term bonsai for instructions in terms of how to do it and the trees and shrubs best suited. I'm told that creating bonsai is not for the faint of heart, so be warned.
Finally, your containers and pots should be well on their way by now, but if a few of the plants are not as you envisioned, you can still find lots of annuals and even perennials to replace the under-performers. And remember, a thriller, filler and a spiller are the rules of thumb. However, a container with singular plant material can be lovely. Always fertilize and water regularly and deadhead spent blooms.
As we welcome the first day of summer, I'll leave you with this wonderful quote from F. Scott Fitzgerald: "And so with the sunshine and the great bursts of leaves growing on the trees, just as things grow in fast movies, I had that familiar conviction that life was beginning over again with the summer."