So far, Roman Yosyfiv figures he's shipped $370,000 worth of medical assistance to more than 60 different hospitals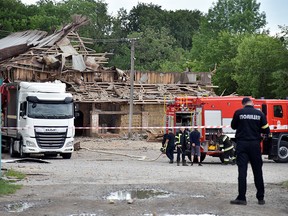 Article content
Roman Yosyfiv planned to end a family visit to Ukraine a few weeks before Russia launched its invasion on Feb. 24.
Article content
But instead of fleeing the country with his two-year-old daughter, the mounting threat of war delayed that departure — and the invasion that followed convinced the Calgarian to stay indefinitely to do what he could to help.
"We had a flight ticket (to return to Calgary) for Feb. 6 but wanted to stay to see what happens," said Yosyfiv, 38.
He didn't have to wait long.
When the Russian assault began, his family took shelter in the kitchen of their Lviv home, where the windows are smaller.
When it became clear the western Ukrainian city wasn't in immediate danger, they went to be with their parents, who lived in a nearby fortified home that withstood the German invasion during the Second World War.
"It was built in the 1920s and constructed almost like a shelter," said Yosyfiv.
Article content
For the Calgary entrepreneur, the crisis soon evolved into lending comfort to a much larger circle of Ukrainians, and he began accepting donations used to procure medical supplies for hospitals closer to the war zone.
It's where military and civilian casualties are mounting amid Russia's relentless onslaught in the country's eastern Donbas region.
"I'm not sure how many of the injured (we're helping) are civilians or soldiers," said Yosyfiv.
Lists of needed items arrive from hospitals to the south and east, and using donations drummed up on his Facebook page, the Calgarian purchases those supplies at local pharmacies.
They're transported to hospitals by volunteers, some of them Canadians with no ties to Ukraine, he said.
Article content
"They have no relatives in Ukraine but came to help," said Yosyfiv, who runs an industrial trailer rental business in Calgary.
A volunteer from Kelowna, BC, was set to deliver a batch of medicine and other goods to a hospital in Dnipro, hundreds of kilometers to the east, he said.
Earlier this month, a shipment of food arrived into his care unannounced from Calgary, courtesy of the city's Polish community.
"They said, 'This is the least we could do for Ukraine,' " said Yosyfiv.
"It was hard to hold back the tears."
So far, the impromptu humanitarian aid worker figures he's shipped $370,000 worth of medical assistance to more than 60 different hospitals.
It's done from the relative safety of Lviv, which has served as a hub for fleeing refugees and has come under sporadic Russian missile attacks.
Article content
Earlier in the war, Yosyfiv recalls one of the missiles whizzing over his home.
"It was about 60 to 70 meters above our house and exploded about five kilometers away," he said.
"We ran down to our basement right away."
Yosyfiv said he's recently encountered reminders of the more distant fighting that could prove decisive to a hard-pressed Ukraine, with soldiers wounded or on leave from the Donbas war showing up in Lviv.
"They're coming back on rotation and I'm supplying them with bandages," he said, adding their morale remains high despite the incessant Russian shelling and air attacks.
"These guys say it's hell over there but they're going back. . . they have nowhere to go and they're ready to die."
For his part, Yosyfiv said he'll likely forgo a scheduled August return flight to Calgary.
"If (Russian President Vladimir) Putin stops this war, I'll come back, but I don't think it'll be over by then," he said.
BKaufmann@postmedia.com
Twitter: @BillKaufmannjrn